The values interview
We expect every teammate, team, and our company to live up to the Sourcegraph values. It is therefore important that we evaluate every candidate on the values to determine how successful they will be within Sourcegraph. Because of this, all candidates, regardless of level or role, go through a values interview as part of their interview process with Sourcegraph.
What is the values interview?
Interviewers: two teammates outside of the department for which a candidate is interviewing.
Duration: 30-minutes. We should allow five minutes for the introduction, 20 minutes for the screen, and 5 minutes at the end for questions.
Details: this interview is focused entirely on our values and how a candidate's views and experiences align with them. Our values are key to our success as individuals and as a company. You can read more about them here.
Purpose of the values interview
The purpose of the Values Interview is to ensure that the candidate embodies our core values. It is not a skills assessment. Rather, the goal of the interview is to determine whether candidates can positively contribute to our core values. This is just as important as determining if they have the skill and will to perform the duties of the role.
Workplaces are a version of a community. In any community where you want people to figure out how to work together effectively, it can be helpful to have a common set of guiding principles. Understanding how intrinsically aligned a candidate might be to our guiding principles makes it more clear as to what will be easy and what will be hard for them if they come into this environment. Will they need coaching or might they be an example? I think about it as an alignment exercise to determine what they are going to add that could potentially enhance our values and take them to the next stage as our community at Sourcegraph continues to grow and evolve.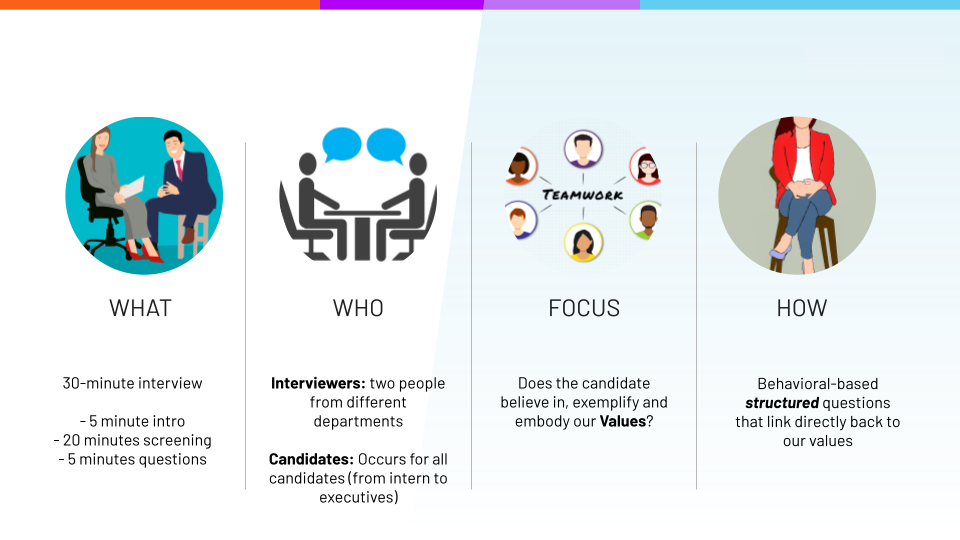 Resources for recruiters
Please ask the Hiring Manager if they have any suggestions for their role. Reminders:
Must have been here for 3+ months. Here is a doc that lists everyone who has been here for 3+ months.
Must be two people from different departments
Please keep diversity in mind when selecting teams
Once the values team has been selected, the Recruiter is responsible for sending a Slack to each values team saying:
"Hi team! As you know, our values interview is critical to ensuring that our new hires embody our values, and we need your help! The two of you have been nominated to serve as the values team for our [role title] opening. I recognize that this is outside of your day-to-day responsibilities, so please let me know if you're willing to participate (and if you're too busy right now, no worries! We can always add you to another team when your schedule allows). If you both agree to opt in, below are some helpful details:
The two of you will conduct a 30-minute values interview for all [role title] finalists. We anticipate 3–5 total interviews (so this would be a 1.5–2.5 hour commitment) and will be spread out over multiple days.
One of you will need to opt in as the lead (this person is the one who begins the introduction and asks the first question).
Here is a resource to help you in the interview.
All structured interview questions are listed in your Greenhouse scorecard, found in the interview prep link in your interview calendar invite.
Please let me know if this is something you're both willing to participate in and I'll add you to the interview plan. And if you have any questions or would like to practice in advance of the interview, let me know and I'll send a calendar invite!"
Feedback scenarios
If both interviewers select yes or strong yes, no further debrief is needed and we can move forward to offer stage if the Hiring Team is aligned.
If one or both interviewer select no, but the rest of the interview team is yes or strong yes, then a debrief is needed and the below steps need to be followed before moving to an offer:

Step 1: the Recruiter Slacks the Hiring Manager and the VP Talent that the candidate got a no on values. The Recruiter asks the Hiring Manager to review the feedback form and the Brighthire to see if they are aligned with the feedback, or if they would like to investigate further.
Example Slack message: "Hi Hiring Manager - I wanted to flag that candidate name got a no / neutral during the values interview. As a next step, would you mind reviewing this feedback and this Brighthire video? We can then make a final determination whether or not to move forward."
Step 2: if the Hiring Manager reviews the feedback and Brighthire and is still interested in moving forward to offer stage, the Hiring Manager sends the below Slack to the values interviewer, the VP Talent, and the Recruiter:
Example Slack message: "Hey team! Thank you so much for interviewing candidate namefor the values interview.  We know it's outside of your day-to-day responsibilities are are super grateful. We noticed you gave a no, so before making a final decision, I wanted to circle back to better understand your score. Essentially, I am wondering if you are a firm no, or if you came out of the values interview noticing "yellow flags" that need to be investigated further.  Some questions: 1. What flags do I need to dig in further before making a decision? 2. Do you have any serious concerns in moving forward from a values standpoint?  In other words, if I dig on the flags and feel comfortable moving forward, would you be supportive? Thank you again for taking the time to provide your feedback (which I greatly value) to help me better understand any discrepancies before making a final call!"