Sourcegraph internship program
We completed our first-ever internship program in 2022! It was a 12 week internship program beginning May 16, 2022 and ending August 5th, 2022. All roles were full-time and all-remote.
We plan to run our next internship program in 2024 and we will update this page accordingly.
We do not limit our internships to just students - we welcome all qualified applicants, including incoming college seniors, graduating seniors, graduate students, people without a degree, or individuals looking to make a career change.
2022 internship cohort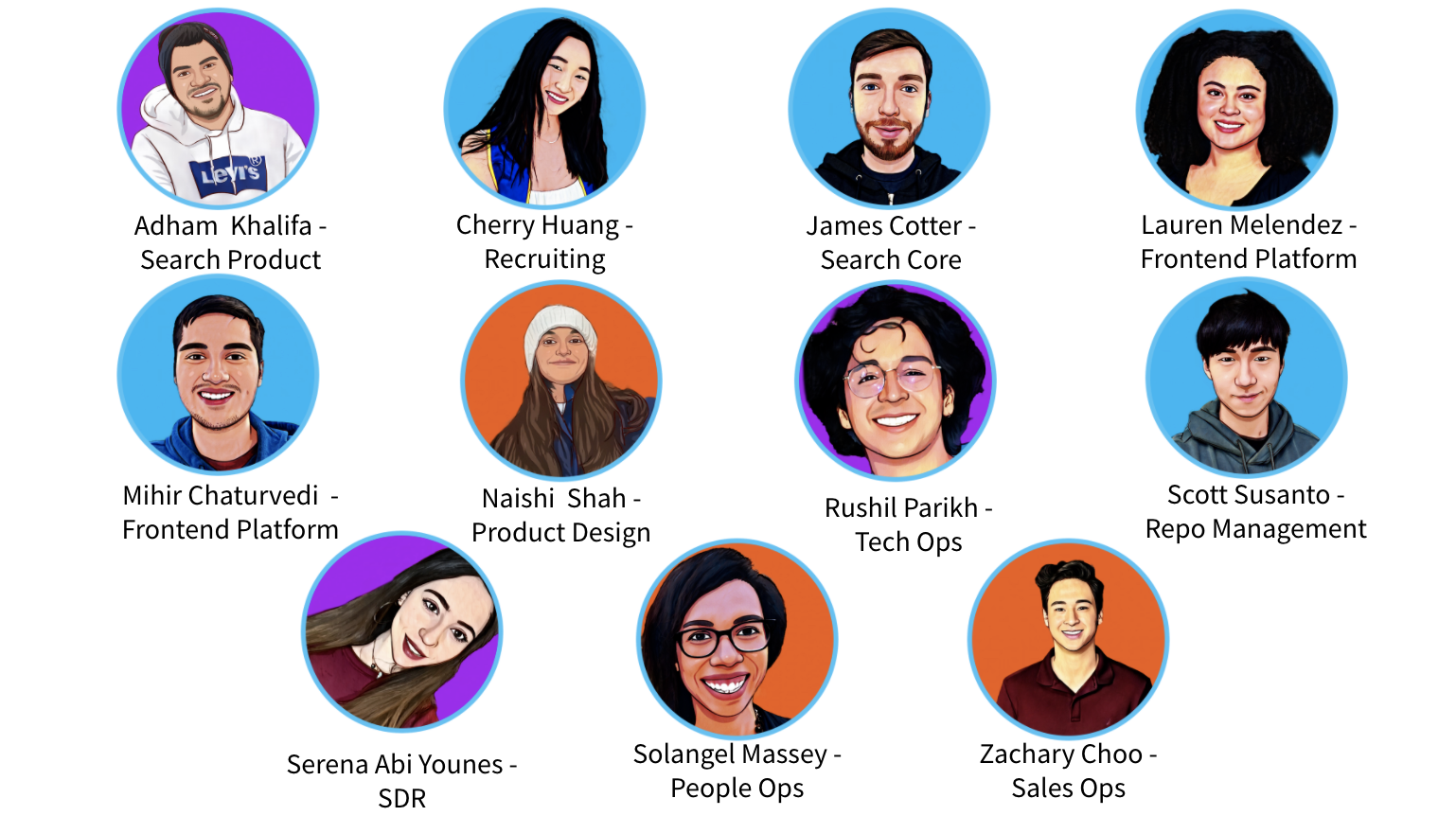 Internship projects
Prior to the end of the internship, each intern will complete a final project in the form of a LinkedIn post and video. These projects will reflect and recap the internship experience. Prompts and details have been shared internally and you can reach out to Kemper Hamilton with any questions.
Internship events
In addition to each interns' projects and responsibilities, there will be a scheduled social and educational events to enhance the internship program experience. Google calendar invites will be sent for each of the events when dates are determined. If the event dates/times are updated, your google calendar invites will also be updated.
Payroll FAQs
Q: Is there any way to retroactively update/add working hours for previous days?

A: Yes, you can manually update your hours by submitting change requests or going to "My Time" and changing your hours worked directly.

Q: Am I allowed to work any hours on Saturday or Sunday?

A: Yes as long as you don't go over 40 hours per week and 8 hrs per day.

Q: Does our Process St. onboarding count as working hours that we can clock in for?

Q: Is it correct to think that most of the time we'll be logging 40-hour work weeks in Rippling?

A: Yes, we anticipate a consistent 40 hours/week report unless your manager is aware you'll be working less than 40 hours in a certain week and/or unless you have overtime approved by your manager ahead of time.

Q: How do International interns submit expenses for reimbursement?

A: International interns can submit their expense reimbursements via an invoice emailed to ap@sourcegraph.com. Here is a link to a template.

Q: How do US interns submit expenses for reimbursement?

A: US Interns will submit for reimbursements through Airbase.

Q: Do I clock hours into Rippling on PTO?

A: Yes, clock in regular work hours and just add a comment in Rippling that you are on PTO. To make a comment, right-click a day in your "Hours Worked" section of your TimeSheet and click "Add Comment."
Minor Travel Policy
General FYI: Sourcegraph is not able to give tax-related guidance.
If you need any additional help with Rippling, this link may be helpful!